Order T&B Petroleum
Only U$ 25.00
CLICK HERE TO ORDER
Check the latest edition
Feb | 2021 | N° 40
Login
Hello
Guest
! Welcome to our site.
Divulgation
In an era of energy landscape transformation, attracting and retaining talent with the skills to unlock opportunities will be a critical factor in our industry's success. The capacity to inspire the next generations to lead the energy industry into the future will be of the utmost importance.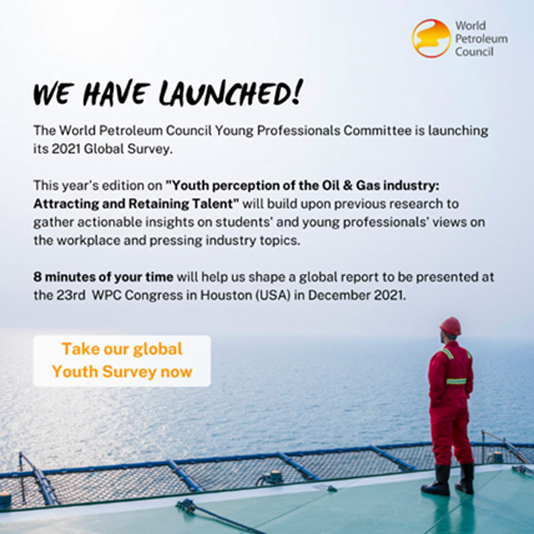 This year's edition of the WPC Youth Survey focuses on "Youth Perception of the Oil & Gas Industry - Attracting and Retaining Talent" and will build upon insights gathered in previous WPC Youth Survey editions. The data gathered will enable the Youth Survey Team to investigate the changing views of students and young professionals on the workplace and their perception of the Oil & Gas industry, as well as their views on the global pandemic-driven changes in the work and study environment.
The Survey can be accessed here https://www.surveymonkey.com/r/WPCYouthSurvey-2021 or through the main marketing flyers, which can also be used to promote the 2021 Global WPC Youth Survey in your networks. More background on the Youth Survey and its past editions is available https://www.world-petroleum.org/youth/youth-surveys.
The goal is to gather a broad global participation to ensure the best results for the Youth Survey and a Report and outcomes of the Survey will be officially presented in December 2021 at the 23rd World Petroleum Congress in Houston.
Font: T&B Petroleum/Press Office
Your E-mail:
Friend's Name:
Friend's E-mail:
Comment:
Send
Your Name: