Order T&B Petroleum
Only U$ 25.00
CLICK HERE TO ORDER
Check the latest edition
Feb | 2021 | N° 40
Login
Hello
Guest
! Welcome to our site.
Fuels
Today (02/19), gasoline rises to R$ 2.48 and diesel to R$ 2.58 per liter, Petrobras discloses
02/19/2021 | 13h50
Divulgation
As of today, 02/19, Petrobras' average prices at refineries will be R $ 2.48 per liter for gasoline and R $ 2.58 per liter for diesel, after applying adjustments of R $ 0.23 and R $ 0.34 per liter respectively.
The alignment of prices with the international market is essential to ensure that the Brazilian market continues to be supplied without risk of shortages by the different actors responsible for serving the various Brazilian regions: distributors, importers and other refiners, in addition to Petrobras. This same competitive balance is responsible for price reductions when supply grows in the international market, as occurred throughout 2020.
The prices practiced by Petrobras, and their variations to more or less associated with the international market and the exchange rate, have limited influence on the prices perceived by final consumers. The price of gasoline and diesel sold at the service station pump is different from the price charged at Petrobras refineries. Until it reaches the consumer, federal and state taxes, costs for the acquisition and mandatory mixing of biofuels are added, in addition to the gross margins of the distribution companies and the fuel retail stations.
The figure below shows the contribution of each installment to the composition of consumer prices in a calculation based on the average prices of Petrobras and the survey of prices to the final consumer in 13 Brazilian capitals and metropolitan regions published by the ANP for the week from 07 to 13/02 / 2021.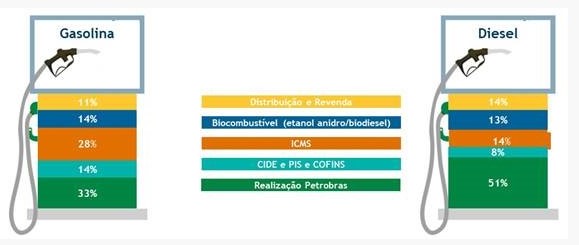 It is also worth noting that the price revisions made by Petrobras may or may not be reflected in the final price to the consumer. As Brazilian legislation guarantees price freedom in the fuel and oil products market, the change in the final price will depend on transfers made by other members of the fuel chain.
Final consumer price in Brazil is below the world average
According to a survey by Globalpetrolprices.com covering 167 countries, the average price of gasoline to the final consumer in Brazil is 17% lower than the global average and occupies the 56th position of the ranking, being, therefore, lower than the prices observed in 111 countries.
For diesel, in a sample of 166 countries, the final price in Brazil is 28% lower than the global average and occupies the 43rd position in the ranking, that is, less than 123 countries.
In both cases, average prices in Brazil are below those recorded in Chile, Argentina, Peru, Canada, Germany, France and Italy.
Font: T&B Petroleum/Petrobras Agency
Your E-mail:
Friend's Name:
Friend's E-mail:
Comment:
Send
Your Name: