Order T&B Petroleum
Only U$ 25.00
CLICK HERE TO ORDER
Check the latest edition
Apr | 2017 | N° 38
Login
Hello
Guest
! Welcome to our site.
LNG
LNG as marine fuel - the first step towards deep-sea shipping GHG reduction
03/30/2020 | 15h01
The video describes how LNG can provide a clear pathway to fuels that will enable the industry to meet the International Maritime Organization's target to reduce greenhouse gas (GHG) emissions by at least 50% by 2050.
The disruption being caused by the COVID19 pandemic highlights the crucial role of shipping in enabling global trade, with governments working to safeguard supply chains for essential goods. Given this fundamental role in trade, reducing emissions from shipping is critical. Shipping currently represents around 3% of total global emissions. That contribution could change significantly as other sectors switch to renewables if the shipping fuel mix remains unchanged.
Mark Bell, General Manager for SGMF said; "We produced this video as there is still a lot of debate around the use of LNG and its role in achieving the 2050 targets, and eventual zero-carbon emissions in shipping. We are not here to tell anyone what to do but we are here to lay out the facts regarding the use of LNG. Be quite clear that the fuel choice is only part of the solution but without its widespread use or the delay of that use, 2050 targets will not be met. Net zero carbon fuels are not yet available for shipping and could be some way off, LNG is a both a pathway to those fuels whilst also providing benefits now".
"With a changeover to LNG today we can reduce GHG emissions by up to 21% compared with current oil-based marine fuels over the entire lifecycle from well to wake*. We want to help the industry understand that it is more attainable then people may believe to have a significant and immediate impact on emissions."
Video caption: LNG as a marine fuel- The video can also be found online here
SGMF Emissions fact sheet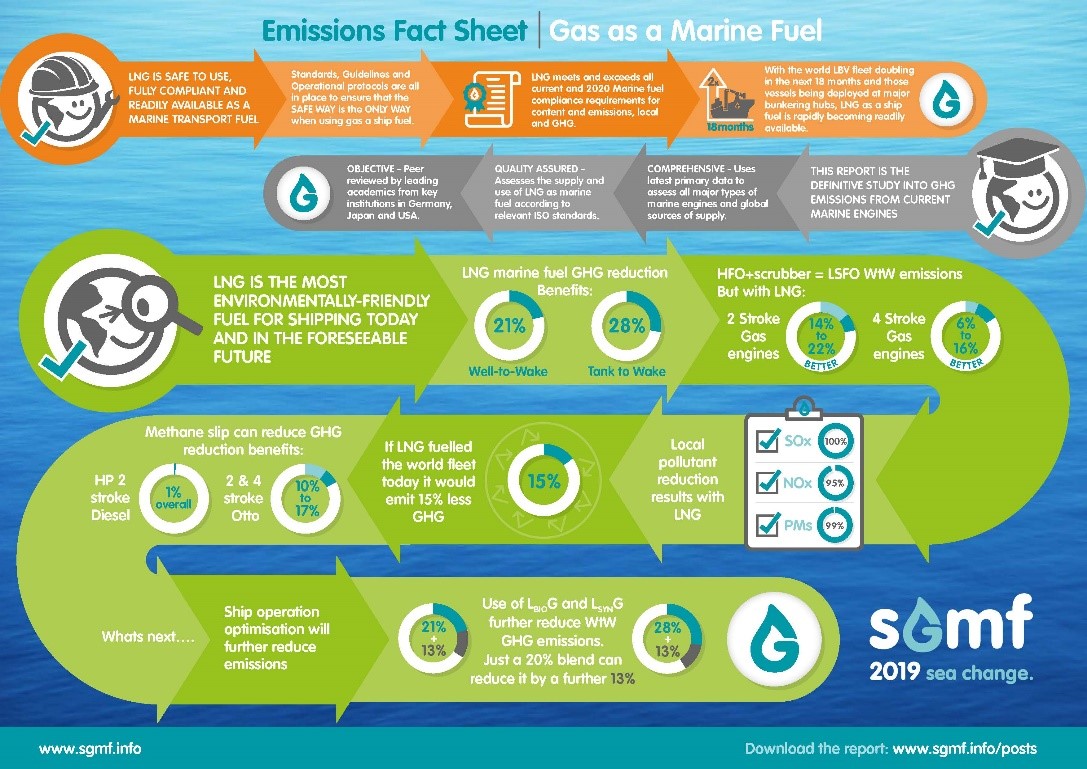 About SGMF:
The Society for Gas as a Marine Fuel (SGMF) is a non-governmental organisation (NGO) established to promote safety and industry best practice in the use of gas as a marine fuel. It has Consultative Status with the IMO and is the definitive information resource for the industry.
Formed in 2013, Governed by a representative Board, the Society is driven by two principal Committees; Technical and Environmental. SGMF has several Working Groups at any one-time solving issues and producing outputs such as Formal Publications and Technical Guidance Notices for the industry. The Society has produced nine-ISBN publications to date and has over 150 international members ranging including energy suppliers, port authorities, fuel suppliers through to equipment manufacturers, training organisations and classification societies. As well as the IMO, SGMF has formal relationships with ISO, NGVa, LNG MFI, USCG, SIGTTO, CLIA, GIE, BPO,OCIMF, IACS, EMSA, IAPH, Intertanko, Intercargo, BIMCO and Interferry.
SGMF's members currently sits at 150 members as of March 2020. The full list of member organisations can be found at: www.sgmf.info/profiles/search
For more information on SGMF visit: www.sgmf.info
Font: Press Release
Your E-mail:
Friend's Name:
Friend's E-mail:
Comment:
Send
Your Name: