Order T&B Petroleum
Only U$ 25.00
CLICK HERE TO ORDER
Check the latest edition
Apr | 2017 | N° 38
Login
Hello
Guest
! Welcome to our site.
Petrobras
Public Offering of Debentures with Limited Distribution Efforts: Bookbuilding Procedure Concluded
08/17/2017 | 12h17
Petrobras Agency
Rio de Janeiro, August 16, 2017 - Petróleo Brasileiro S.A. – Petrobras, further to the material fact July 26, 2017, reports that the bookbuilding procedure ("Bookbuilding") for the 5th (fifth) issue of simple, non-convertible, unsecured debentures ("Issuance" and "Debentures") has been concluded, resulting in the distribution of Debentures amounting to R$ 4,988,819,000.00 (four billion, nine hundred eighty-eight million, eight hundred nineteen thousand reais).
The table below presents a summary of the final conditions achieved and the allocation of Debentures throughout Issue series: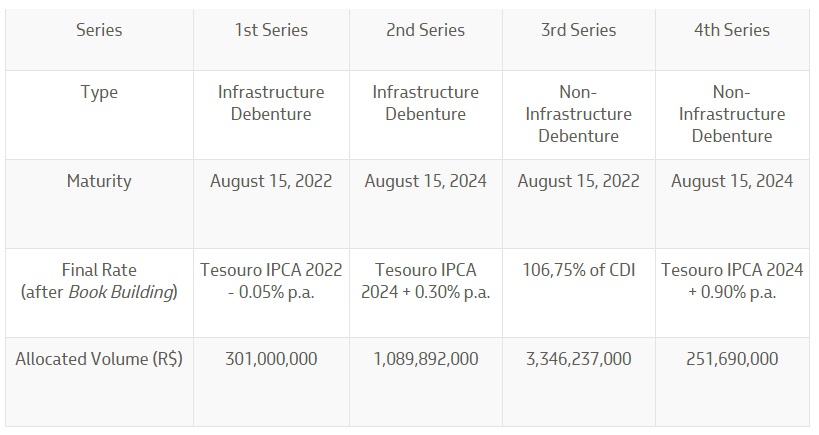 Final settlement of the transaction is scheduled to take place by the end of August.
This notice to the market is for information only, pursuant to current legislation, and shall not be construed or considered for all legal purposes and effects as sale and/or disclosure material of the Debentures.
Font: Petrobras Agency
Your E-mail:
Friend's Name:
Friend's E-mail:
Comment:
Send
Your Name: